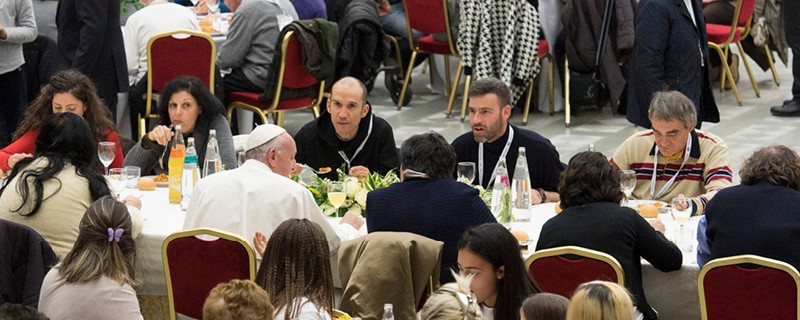 PETER'S PENCE AND POPE FRANCIS
A bond formed across distance
From the beginning of his pontificate, Pope Francis reminded everyone that every man and woman is included in the grand project of the love of God the Father. The Church is not an exclusive group. Everyone is called to be a part of the people God.
Pope Francis wrote: "Small yet strong in the love of God, like Saint Francis of Assisi, all of us, as Christians, are called to watch over and protect the fragile world in which we live, and all its peoples" (Evangelii Gaudium, p. 216).
Peter's Pence, as a gesture of fervent charity, is therefore for Pope Francis, a choral response of the universal Church, to the evangelical and biblical exhortations inviting us to fraternal love, to humble and generous service, to justice, to mercy towards the poor. Jesus indicated this path of the acknowledgement of the other so that everyone can feel welcomed, loved and encouraged to live according to the blessed life offered by the Gospel.
It is a question of responding to a persistent question addressed to everyone, which in the Bible is put on God's lips, and who continues to ask us: "Where is your brother?" (Gen 4:9)
Peter's Pence is not only a gesture of charity, a way of supporting the activity of the Pope and of the universal Church in favoring especially the poorest and Churches in difficulty. It is also an invitation to pay attention and be near to new forms of poverty and fragility in which we are called to recognize the suffering Christ, placing them at the center of the journey of the ecclesial communities.
In this way, we can evangelize our societies and individualistic lifestyles, which are often indifferent to the fate of their fellow men and women and communities who are at the thresholds of our homes, and our countries.
Pope Francis writes: "We are called to find Christ in them, to lend our voice to their causes, but also to be their friends, to listen to them, to speak for them and to embrace the mysterious wisdom which God wishes to share with us through them" (Evangelii Gaudium, p. 198).
Charity thus becomes a thrust that regenerates social, economic and political relationships as well, so that no one might claim to be at peace while shutting his or her eyes or remaining speechless, but that together we all might be each other's guardians, one for another.